People's Choice Awards: ecco tutti i vincitori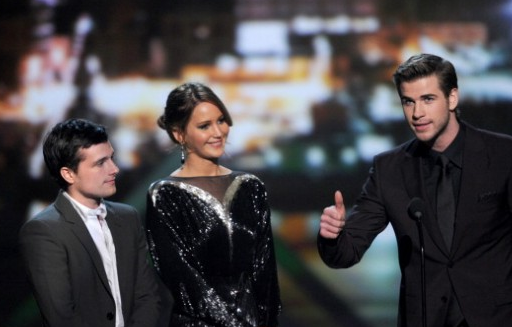 Ieri, 9 gennaio 2013, o meglio stanotte ora italiana, si sono svolti  i People's Choice Awards 2013 condotti da Kaley Cuoco. La manifestazione, ormai appuntamento fisso annuale, ha visto premiati i maggiori protagonista del cinema, della tv e della musica più apprezzati dal pubblico.
Nel corso della manifestazione il primo film post saga Twilight, ovvero The Hunger Games, ha ottenuto ben cinque premi: miglior film, miglior chimica tra attori, miglior film d'azione, miglior franchise e Face of Heroism. Per non parlare del fatto che l'attrice principale della pellicola, Jennifer Lawrence, ha vinto il premio come miglior attrice. In totale, dunque, la pellicola  The Hunger Games porta a casa ben sei premi. Al resto, solo qualche briciola. Da sottolineare, inoltre, che l'attrice Sandra Bullock ha vinto l'Humanitarian Award ed ha dichiarato in merito:
"Non sono modesta quando dico che non ho fatto niente rispetto a quello che fanno giornalmente i volontari"
Ma ecco l'intera lista dei vincitori dei People's Choice Awards 2013
Cinema:
Favorite Movie: The Hunger Games
Favorite Movie Actor: Robert Downey Jr.
Favorite Movie Actress: Jennifer Lawrence
Favorite On-Screen Chemistry: The Hunger Games
Favorite Movie Superhero: Robert Downey Jr.
Favorite Face of Heroism: Jennifer Lawrence
Favorite Movie Fan Following: Twihards (Twilight)
Favorite Humanitarian Award: Sandra Bullock
Favorite Dramatic Movie Actor: Zac Efron
Favorite Dramatic Movie Actress: Emma Watson
Favorite Comedic Movie Actress: Jennifer Aniston
Favorite Comedic Movie Actor: Adam Sandler
Favorite Dramatic Movie: The Perks of Being a Wallflower
Favorite Action Movie: The Hunger Games
Favorite Action Movie Star: Chris Hemsworth
Favorite Movie Icon: Meryl Streep
Favorite Comedic Movie: Ted
Favorite Movie Franchise: The Hunger Games
Televisione:
Favorite Daytime TV Host: Ellen DeGeneres
Favorite Network TV Comedy: The Big Bang Theory
Favorite Network TV Drama: Grey's Anatomy
Favorite Sci-Fi/Fantasy TV Show: Supernatural
Favorite Celebrity Judge: Demi Lovato
Favorite New TV Comedy: The New Normal
Favorite Late Night Talk Show: Jimmy Fallon
Favorite Cable TV Comedy: Awkward
Favorite Cable TV Drama: Leverage
Favorite Premium Cable TV Drama: True Blood
Favorite TV Fan Following: SPNFamily (Supernatural)
Favorite Competition TV Show: The X Factor
Favorite Dramatic TV Actor: Nathan Fillion
Favorite Dramatic TV Actress: Ellen Pompeo
Favorite Comedic TV Actress: Lea Michele
Favorite Comedic TV Actor: Chris Colfer
Favorite New TV Drama: Beauty and the Beast
Commenti