Saturn Awards 2013, le nomination per la tv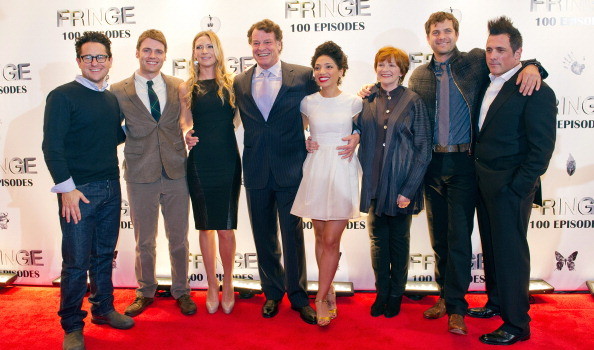 Sono stati da poco annunciati i candidati ed i papabili ai trentanovesimi Saturn Awards, ovvero ai premi dati dall'Academy of Science Fiction, Fantasy & Horror Film ai migliori prodotti di genere cinematografici, televisivi e home video.
Ecco tutte le nomination per quanto riguarda la televisione:
BEST NETWORK TELEVISION SERIES
ELEMENTARY
CBS
THE FOLLOWING
FOX
FRINGE
FOX
ONCE UPON A TIME
ABC
REVOLUTION
NBC
SUPERNATURAL
THE CW
BEST SYNDICATED CABLE TELEVISION SERIES
AMERICAN HORROR STORY: ASYLUM
FX
DEXTER
SHOWTIME
LEVERAGE
TNT
THE KILLING
AMC
TRUE BLOOD
HBO
THE WALKING DEAD
AMC
BEST TELEVISION PRESENTATION
BREAKING BAD
AMC
CONTINUUM
SyFy
FALLING SKIES
TNT
GAME OF THRONES
HBO
KEN FOLLETT'S WORLD WITHOUT END
Reelz
MOCKINGBIRD LANE
NBC
SPARTACUS: WAR OF THE DAMNED
Starz
BEST YOUTH-ORIENTED SERIES ON TELEVISION
ARROW
THE CW
BEAUTY AND THE BEAST
THE CW
DOCTOR WHO
BBC America
MERLIN
SyFy
TEEN WOLF
MTV
THE VAMPIRE DIARIES
THE CW
MIGLIOR ATTORE
KEVIN BACON
THE FOLLOWING
Fox
BILLY BURKE
REVOLUTION
NBC
BRYAN CRANSTON
BREAKING BAD
AMC
MICHAEL C. HALL
DEXTER
Showtime
JOSHUA JACKSON
FRINGE
Fox
TIMOTHY HUTTON
LEVERAGE
TNT
ANDREW LINCOLN
THE WALKING DEAD
AMC
MIGLIIORE ATTRICE
MOON BLOODGOOD
FALLING SKIES
TNT
MIREILLE ENOS
THE KILLING
AMC
SARAH PAULSON
AMERICAN HORROR STORY: ASYLUM
FX
CHARLOTTE RILEY
KEN FOLLETT'S WORLD WITHOUT END
Reelz
TRACY SPIRIDAKOS
REVOLUTION
NBC
ANNA TORV
FRINGE
Fox
MIGLIORE ATTORE NON PROTAGONISTA
JONATHAN BANKS
BREAKING BAD
AMC
GIANCARLO ESPOSITO
REVOLUTION
NBC
TODD LASANCE
SPARTACUS: WAR OF THE DAMNED
Starz
COLM MEANEY
HELL ON WHEELS
AMC
DAVID MORRISSEY
THE WALKING DEAD
AMC
JOHN NOBLE
FRINGE
Fox
MIGLIORE ATTRICE NON PROTAGONISTA
JENNIFER CARPENTER
DEXTER
Showtime
SARAH CARTER
FALLING SKIES
TNT
ANNA GUNN
BREAKING BAD
AMC
LAURIE HOLDEN
THE WALKING DEAD
AMC
JESSICA LANGE
AMERICAN HORROR STORY: ASYLUM
FX
BETH RIESGRAF
LEVERAGE
TNT
MIGLIOR GUEST IN UNA SERIE
BLAIR BROWN
FRINGE
Fox
TERRY O'QUINN
FALLING SKIES
TNT
LANCE REDDICK
FRINGE
Fox
MARK SHEPPARD 
LEVERAGE
TNT
RAY STEVENSON
DEXTER
Showtime
YVONNE STRAHOVSKI
DEXTER
Showtime
MIGLIOR DVD / 80 TV SERIES
IN SEARCH OF: THE COMPLETE SERIES
Visual Entertainment
LOGAN'S RUN: THE COMPLETE SERIES
Warner
THE RIVER: THE COMPLETE FIRST SEASON
ABC Studios
SHAZAM! THE COMPLETE LIVE-ACTION SERIES
Warner Archive
SPARTACUS: VENGEANCE (THE COMPLETE SECOND SEASON)
Starz / Anchor Bay
STAR TREK: THE NEXT GENERATION (SEASON 1 & 2)
Paramount
0 condivisioni e commenti
Condividi e commenta!
Commenti